Win A Full Scholarship to Biola
Or score Disneyland annual passes for you and a friend. Plus, every newly admitted undergrad student gets an academic scholarship of up to $21,000 (and at least $12,000) — just for successfully making it into Biola.
Apply for free by Dec. 1 for your chance to win!
The Giveaways
Free Tuition for Four Years
What's better than attending Biola? Attending Biola for free! One winner will receive a four-year full-tuition scholarship to Biola. That's right: You have the chance to earn a degree from one of the nation's premier Christian universities without paying a dime for tuition!
Disneyland Passes
Just 10 miles from Biola's campus, Disneyland is a home away from home for many Biola students. Three winners will each receive two "Believe Key" passes, giving you and a friend a year of free access to the world's "happiest place."
How to Qualify
To be eligible, submit your undergraduate application to Biola by Dec. 1, 2021. (And as an extra incentive to early Eagles: When you apply by our Nov. 15 early-decision deadline, you'll be notified about your acceptance to Biola by Jan. 15.) See full terms and conditions.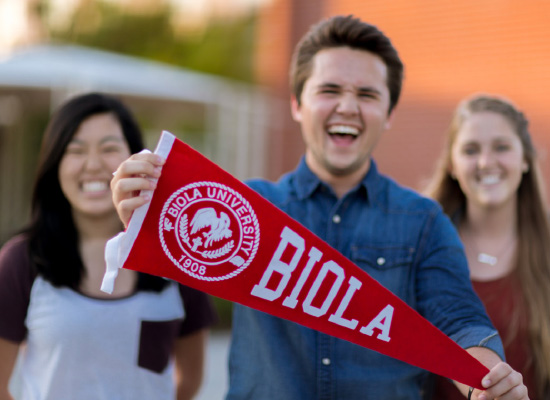 Plus
Everyone Wins
Get an Academic Scholarship of Up to $21,000 Per Year
As part of our commitment to affordability, Biola is now offering you our largest scholarships ever. And the best part? These scholarships aren't limited to a select number of winners. Claim yours by simply qualifying for acceptance into the university!
Biola awards every newly admitted undergraduate student up to $21,000 per year (and at least $12,000 per year) in academic scholarships — just for successfully getting accepted to the university. That's up to $84,000 over four years! And that doesn't include other forms of financial aid available to you, such as other scholarships and government grants.
Apply today and complete the simple Steps for Financial Aid.